KAZAKH INVEST in state of emergency helped with the extension of visas for 118 foreign citizens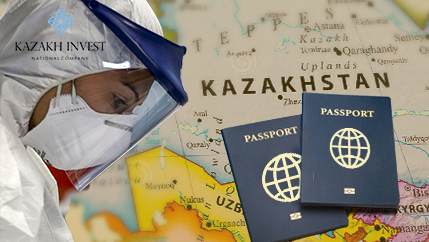 In accordance with the Government deсree of the Republic of Kazakhstan dated April 17, 2020, №220, in connection with the distribution of COVID-19, the Republic of Kazakhstan suspended the unilateral visa-free regime for citizens of 57 countries until November 1, 2020. So, citizens of these countries will need a visa to enter Kazakhstan after opening the state border.
At the same time, a visa will be issued only the medical certificate confirming that the applicant does not have a coronavirus infection. In addition, this certificate must be issued within 48 hours before applying to the consulate for a passport to get a visa.
As of today, the National Security Committee of the Republic of Kazakhstan has temporarily limited the crossing of the State border for citizens of the Republic of Kazakhstan and foreigners until the improvement of the sanitary-epidemiological situation.
However, the power department provided for a number of exceptions, including the staff of the diplomatic service of the country and foreign states, members of official delegations and foreigners - employees of companies of social importance, according to the list approved by a specially created Interagency Commission chaired by the Deputy Prime Minister of the Republic of Kazakhstan for each individual case.
In the context of the spread of coronavirus infection, to date, the specialists of the service department of "KAZAKH INVEST" National Company" JSC provided 67 consultations on visa and migration issues so far.
Also, KAZAKH INVEST received 47 requests from investors on visa and migration issues, so the 42 were resolved positively, 5 were not allowed due to the unfavorable epidemiological situation.
Moreover, private assistance was provided in resolving the issue of extending visas for 118foreign citizens staying in the Republic of Kazakhstan and are not able to leave the Republic of Kazakhstan in connection with the emergency situation, additionally, KAZAKH INVEST provided assistance in resolving 2 problematic visa and migration issues, and 3 more one are being resolved at the moment.
According to experts, mostly investor questions related to obtaining an investor, business, labor, and business immigrant visa. The questions also concern obtaining a labor permit, a residence permit, obtaining quotas as part of concluding an investment contract for priority projects, etc.